Featuring Kelley, the Industry Leader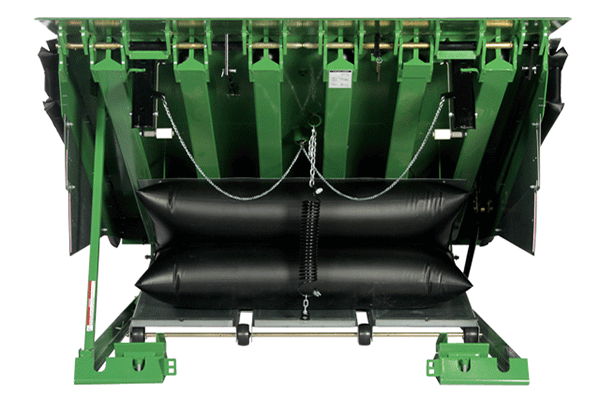 Kelley has been a leader in engineered dock leveler design since 1953, when Kelley invented the world's first counterbalanced dock leveler and created an entire industry. In 1994, Kelley introduced the air-powered dock leveler that revolutionized the industry.
Kelley dock levelers continue to feature innovations that are stronger, longer-lasting and more dependable for a more productive workplace. Their features include:
Air-Powered

Hydraulic

Vertical Storing

Mechanical

Edge-of-Dock

Barrier Lip

Energy Guard

Air Powered
Kelley revolutionized the industry in 1994 by bringing air bag lifting technology to the loading dock, introducing the air-powered dock leveler. This innovative product is simple and durable and contains minimal moving parts.
The Kelley aFX® series dock leveler takes the loading dock to the next level of performance, adding a proprietary airDefense® Technology leg design. When your warehouse needs safe, powered performance at an affordable price, the air-powered dock levelers in the aFX® series are your best choice.
Hydraulic Powered
Kelley hydraulic dock levelers are designed to handle the fast pace of busy loading docks. Advanced hydraulic technology and standard features like regenerative hydraulics, premier lug-style lip hinges, Lambda beam structure and unique open-frame designs keep productivity high and maintenance costs low.
Vertical Storing
Maintaining a clean, efficient warehouse environment is critical for a growing number of companies operating climate-controlled facilities. Kelley vertical-storing dock levelers directly contribute to environmental efficiency, security and cleanliness – allowing you to take control of your warehouse.
Vertical levelers can be utilized with a dock configuration that allows the trailer doors to swing open into the building after the trailer is docked. This system improves operations through lower energy bills, better loss prevention and increased productivity.
Mechanical Operations
Ever since the first Kelley counterbalanced mechanical dock leveler was invented in 1953, Kelley products have been leading the industry with designs that provide maximum efficiency and performance.
Recent innovations make Kelley mechanical dock levelers easier to use than conventional models, easier to operate and more dependable.
The CM series mechanical dock leveler provides exceptional endurance and efficiency. The unlimited float hold-down requires less force to walk down into position, produces less wear on components and has an overall lower lifetime cost of ownership than conventional mechanical dock levelers.
Edge-of-Dock Systems
Kelley edge-of-dock levelers are platforms mounted to the edge of a building wall to assist loading and unloading of trailers in a limited working range of 3" (72.6 mm) above to 3" (72.6 mm) below dock. Three activation systems are available: manual operation, air-powered and hydraulic.
Call Us
317.738.9494