Make Products More Accessible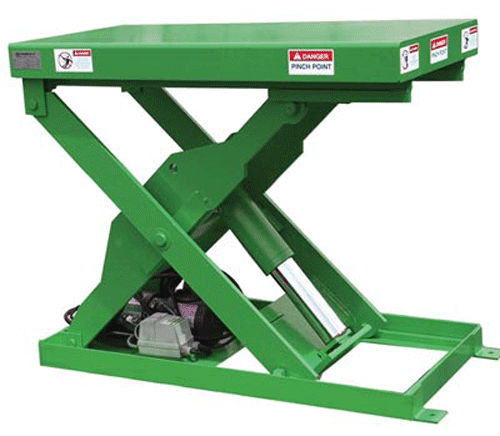 The full line of Kelley hydraulic, air-powered and mechanical lift tables, turntables and tilters reduce back-related injuries while increasing overall productivity by making products and materials more accessible to the workforce.
KLT Series Scissors Lift Table
Scissors lift tables provide versatile, ergonomic and safe lifting solutions for virtually any material-handling application. By bringing the work to the worker, our lift tables not only increase a factory's productivity, they reduce worker fatigue and drastically decrease the risk of serious back injuries to workers.
KMT Series Turntable
Turntables allow workers to rotate their work to them, rather than walking around it. When used with the lift table, our turntables reduce reaching, bending, twisting and walking associated with palletizing operations, easily enhancing both ergonomic and labor-saving benefits. Manual or powered models are available to efficiently palletize, build up and break down, and either can be mounted on a scissors lift, stable bench, or other surface. In addition, ground-mounting is also available.
KT Series Tilter
Small parts and components are typically stored in bins and baskets that are difficult to access. Tilters position parts and hard-to-reach objects within easy reach of workers. Our tilters minimize reaching and bending over, thus reducing the risk of back injuries.
KDS Series Double Scissors Lift Table
Double scissors lifts provide operators with a high-traveling, adjustable work platform without taking up valuable floor space. In fact, our double scissors lifts utilize the same platform size as our standard scissor lifts.
KALT Air Lift
Air-powered lifts provide unrivaled portability and ease of installation thanks to our airstroke actuator and standard fork pockets. These flexible lifts combine a safe and clean activation system (no electricity or hydraulics required) with the ergonomic advantages of lift tables, giving you easy-to-use, easy-to-move power when you need it most.
KAT Air Tilter
Air-powered tilters combine a safe and clean activation system (no electricity or hydraulics required) with the ergonomic advantages of tilters. Our air tilters utilize an airstroke actuator.
KZL Zero Lift
The zero lift table lowers to ground level for easy loading of wheeled carts or pallet jacks, are easily portable to move with other workstations and are a great material lift to use between two elevations.
Call Us
317.738.9494