Automation Creates Efficiency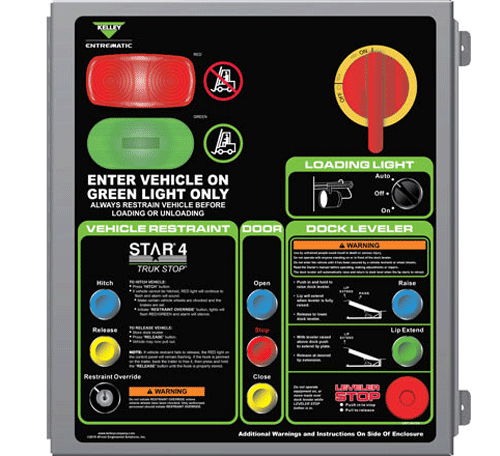 Streamline your operations for ultimate efficiency and enhanced safety with the Kelley Master Control Panel.
The busy loading dock is only getting more complicated as workloads increase and the variety of automated dock equipment necessary to meet those needs grows.
Typically, each piece of equipment adds more control panels and more electrical conduit, cluttering the dock walls, increasing installation costs and creating frustration for employees.
Instead, master dock control panels can seamlessly integrate operations for your dock equipment, putting control conveniently in one place and improving productivity on your dock while saving on electrical costs.
Smart Design Advantages
Dock control panel interlocks equipment to ensure safe, sequential operation.


Single power source and voltage type saves on labor and wiring installation costs.


Compact dock control panel size optimizes wall space and organizes controls.


Control and monitoring of dock doors increases security and prevents accidental door damage.


Sequential control and monitoring of inflatable seals and shelters increases environmental efficiency and security.


Customization options include bilingual labeling for clearer communication, auxiliary equipment operations and company logo.

Call Us
317.738.9494