Options for Tighter Spaces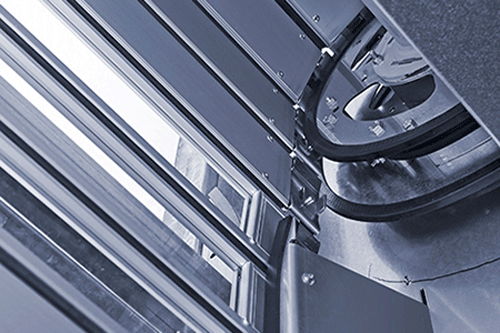 Rolling steel doors are available insulated and non-insulated, as well as up to a 4-hour fire rating.
They are also available in counter doors and coiling grilles for all your varying needs.
Insulated Service Doors
Rolling steel insulated service doors are available in a variety of finishes, insulation and options to meet your specific project application. R-values up to 7.2. Doors slats from 24 to 18 gauge. Also available with vision slats. Steel, aluminum, galvanized, several standard colors as well as full range of powder coat options. Motor operation available.
Non-Insulated Service Doors
Similar in construction and features to the insulated models but without the insulation. Perforated slats also available for ventilation.
Fire-Rated Doors
Both insulated and non-insulated models available for ¾ hr to 4-hr fire ratings. Easy to drop test and re-set for all your fire door needs in fire-rated walls. Optional features include horns and strobes; motor, chain, or crank operation; fusible links, smoke and heat detectors, and building alarm system to close the door.
Counter Doors
Coiling counter shutter doors are available in painted steel, stainless steel, or aluminum curtain and can meet all your needs for securing openings above counters. Motor, crank or push-up options for operation. Doors available with integral frames if required.
Coiling Grilles
Security grilles are available in both vertical lifting and side folding designs. A variety of grill patterns and finishes are available.
Manufacturers
Our product partners include:
Call Us
317.738.9494