Keep Your Dock Safe, Dry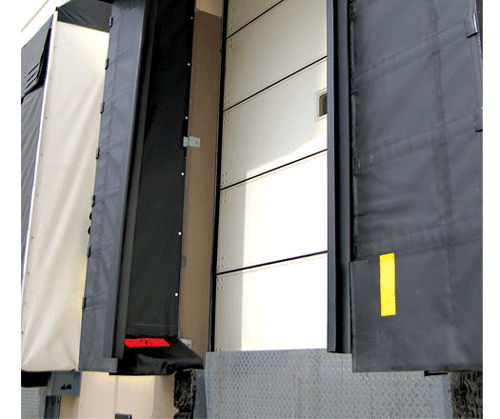 Our Kelley dock seals and shelters keep your loading dock safe, dry and energy efficient. Servicing a wide variety of trailer sizes and types, Kelley dock seals and shelters feature ultra-durable TufSteel® framing for years of reliable performance.
Our Kelley line offers a range of products that provide maximum durability and efficiency for dock applications.
Dock Seals
Kelley dock door seals provide an effective barrier against the elements, keeping loading docks safe and productive. A dock seal can also be a critical component in containing cooled air inside climate-controlled and cold storage facilities for superior energy efficiency.
Dock Shelters
Kelley loading dock shelters help protect your assets and your people from the elements while providing full, unimpeded vehicle access for a safe and productive dock.
Dock shelters also help maintain temperatures in climate-controlled facilities, adding to the energy savings benefits. The flexible structures can withstand damaging force and compression when a trailer backs up to the wall for years of reliable performance.
Inflatable Dock Seals and Shelters
Kelley inflatable dock seals and shelters provide the ultimate energy seal for climate-controlled loading docks.
With a wide variety of models to meet your specific needs, inflatable seals and shelters improve environmental control and energy efficiency at the loading dock with little or no pressure on your building walls. Best of all, they can be interlocked with Kelley restraints and other Kelley dock equipment for improved efficiency and safety.
Rail Shelters
Kelley rail shelters protect products and goods from the elements during the transition between the loading dock and railway cars. Rail shelters are suspended on a steel frame and equipped with steel extension arms, allowing them to cover the gap between docks and rail cars.
AQS900 AquaShield® Rain Sealing System
A rain sealing system like the Kelley AQS900 AquaShield® provides important protection from the elements, keeping products safe from costly water damage. The Kelley AquaShield® rain sealing system keeps external moisture out of the loading dock area with a "wiper" pad that scrapes water off the top of the trailer while the trailer is backing into position.
The AquaShield® design is ingenious because it works so well and yet is so simple that it requires virtually no maintenance.
HINGE GUARD™ Dock Shelter
Conventional dock shelters offer full trailer access. However, when a trailer's doors are opened, a series of gaps appear between the trailer hinges, which allow the elements to enter the facility and conditioned air to escape, reducing employee comfort and increasing energy costs.
The Kelley HINGE GUARD™ Dock Shelter System is specially designed to close off trailer hinge gaps while keeping trailer access unrestricted, securing superior energy efficiency for your loading dock.
WearMaster®
This dock door seal is an innovative system that actually moves vertically with the vehicle, reducing wear on your head pad and side pads, increasing the life of your dock seal. The durable head pad slides up to six inches with the vehicle as it shifts up or down from load weight changes, air-ride suspensions or yard-spotting tractors.
This dock seal, constructed of our strongest materials, including roll-formed galvanized steel framing, will enhance seal performance at your loading dock.
Call Us
317.738.9494